(Angie demonstrating with one of our guest teachers, Carlos Esquena from Buenos Aires)
We run weekly classes in Tynemouth on Tuesdays and in the city centre of Newcastle on Fridays. Both events are informal and meant to give a joyful introduction to Argentine Tango. Just wear shoes that allow pivoting -you do not even need to bring a partner .....
Tuesday class
When: Every Tuesday from 8 pm until about 9:30 pm
How much: £ 5 per session
Where: Holy Saviour's Parish Hall, Manor Road, Tynemouth, NE30 4RH
What else: We usually go for a social drink in one of the local pubs after the class.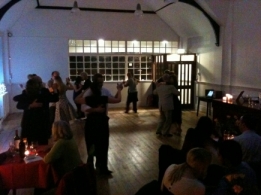 Friday class
Regularly on Fridays between October and May. The event is always announced on the front page.
When: Fridays from 7:30 pm until 8:30 pm
How much: £ 5, concession
Where: Summerhill Pavilion, Winchester Terrace, Newcastle upon Tyne, NE4 6EH
What else: Following the class there is social dancing (a so-called 'milonga') until midnight. This event is included in the price of the class.
If you practice at home and get stuck, there are a number of websites explaining some of the basics and also more advanced moves.

The list below includes some of the principles and figures that we teach in our classes.